I've been toying with the idea of a "Music Monday" post and possible link-up for a few months now. I have had a hard time coming up with the "perfect" graphic which has put things on hold, but because I am SUPER obsessed with a certain song recently sung by The Avett Brothers, I think it's time to JUST DO IT…what a way to start the New Year!
If you want to play along, you can do your own "Music Monday" post, and add my "Music Monday" button to the bottom and and link up with us!
Here are some songs I was really loving this summer (when I first thought of doing a "Music Monday" post):
I love these lines:
"But you are not alone in this
And you are not alone in this
As brothers we will stand and we'll hold your hand
Hold your hand…"
Maybe it's because I grew up on this band, and it's super-nostalgic for me, but there is just something about singing this song at the top of my lungs in my car with the windows rolled down that makes me feel FREE….especially this line, "I don't own the clothes I'm wearing, and the road goes on forever…"
While we're at it, can we talk about the amazing-ness of Gregg Allman's hair?
3.
Ride
, Robert Earl Keen
Speaking of feeling free….this song does the same thing for me, and is perfect for summer-time…
"Gonna buy me a ticket to the end of the line
Wanna feel the air, breathe the countryside
As long as those wheels keep rollin', I'll be satisfied
Gonna ride, ride, ride…"
4.
Knee Deep
, Zac Brown Band (featuring Jimmy Buffett) mmer-
And speaking of summer-time songs, this one just puts me at ease…
"Mind on a permanent vacation
The ocean is my only medication
Wishing my condition ain't ever gonna go away…"
5. Take Me Back Sweet Anna Lee, Spirit Family Reunion
How could I not love a song with the name Annalee? Of course, I am a little partial, but this song is AMAZING. It's exactly "my kind of music," whatever that means. We've been having a good time jamming out to this one with our own little Annalee and she loves to stomp and clap along.
*******************************************************
And here is what I'm currently loving…
6. Closer Walk with Thee, The Avett Brothers
A gospel song that has been done by everyone from Willie Nelson to Patsy Cline, I am currently OBSESSED with this version of "Closer Walk with Thee" from my boys. I am SO happy I got to see them perform this song live in Blacksburg this fall. I listen to it on repeat and I can't stop coming back to these lines:
"Through this world of toil and snares,
If I falter, Lord, who cares?
Who with me my burden shares?
None but Thee, dear Lord, none but Thee."
Something about those words just takes the weight of the world off my shoulders. It's okay to falter, it's okay to fail, it's okay to fall down. Thank you, thank you, thank you.
What songs are getting you through this Monday? Play along and link up!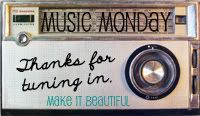 (Just copy the HTML code to the bottom of your blog post and my button will appear!)